Has all the inclement weather lately caused you to postpone an appointment with your Burbank real estate photographer?

I feel your pain.
Many of my regular clients work from home on gloomy days and reschedule engagements related to their property's aesthetic. Unwelcome weather can throw their weekly schedules — and yours and mine — into disarray. 
But is that the way it has to be?
With certain contractors, yes. But not so much these days where Los Angeles real estate photography is concerned. 
I know I'm not the only one who's used the Apple Weather app to its full potential. Let's take "rain" for instance... With a miraculous click and a slow-tracking swipe, we can gauge when it's going to come, from minute to minute, and it's pretty darn accurate. 
What Does This Mean For Your Burbank Real Estate Photography?
Think about precipitation in Los Angeles: it happens in waves, even if it lasts the entire day — or for a month or so in the case of our recent history. That amazing weather app allows your Burbank real estate photographer to navigate those waves of rain to photograph exteriors with a confidence they would have never had without it.
Consider not postponing/rescheduling your appointment for still photography and Matterport 3D virtual tour when the rains come. 
Here me out...
The weather app, along with some photo editing technology, can help lift your Burbank listing up where it belongs... on the MLS, in all its glory. 
You're the consummate professional, and I always appreciate agents like yourself who show up at their properties to make sure they are photoshoot ready. It makes my job a joy, and the edited images benefit from it. 
But, what if each day's forecast looks glum, and you need to get your listing up and rolling? 
The Lockbox Works Wonders for Your Real Estate Photographer

Book it, Dano.
And while you're at it, you can provide me with the lockbox combination to enter the property and lock up after I finish. 
Set your mind at ease, my friend. 
Securing a property is serious business to me, and I do it often for clients who aren't able to meet me in person at photoshoots. 
The property will be left as it was, with doors locked and lights off.
---
Ready to power through the rain?
Call or Text:
818-961-4277
Or go to:
Los Angeles Real Estate Photography Services & Pricing
---
Now I'll address the ginormous elephant in the room...
Rain is accompanied by gray, gloomy skies. It's most likely your number one reason for booking around rainy days, or rescheduling when they pop up in the forecast. 
You want your property to be welcoming and cheery from the outside, enticing buyers to explore the inside with heightened interest. 
After all, that front exterior shot, whether it's a 3/4 or a 12-o'clock, is the photo you'll lead with in your listing.
Let's Check Out Some Before and After Photos of Burbank Real Estate 
Before and after what? 
Great editing! 
A gray sky can easily be replaced, realistically, with a blue one. For me, none of the ethics of photojournalism are violated in the process. 
One would typically expect to enjoy many blue skies at any property. All FEELS Photoworks does when converting gray to blue, is lift the gloom so buyers can see what they will be getting on any given beautiful Burbank day.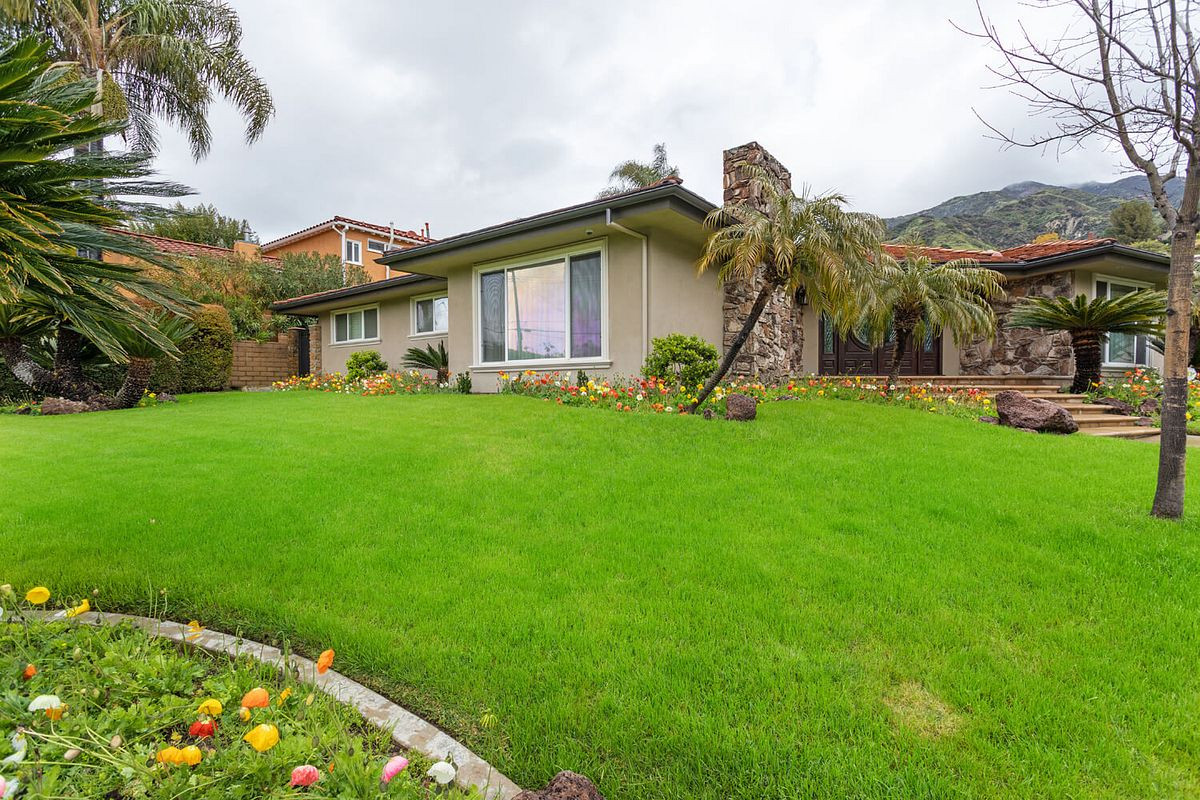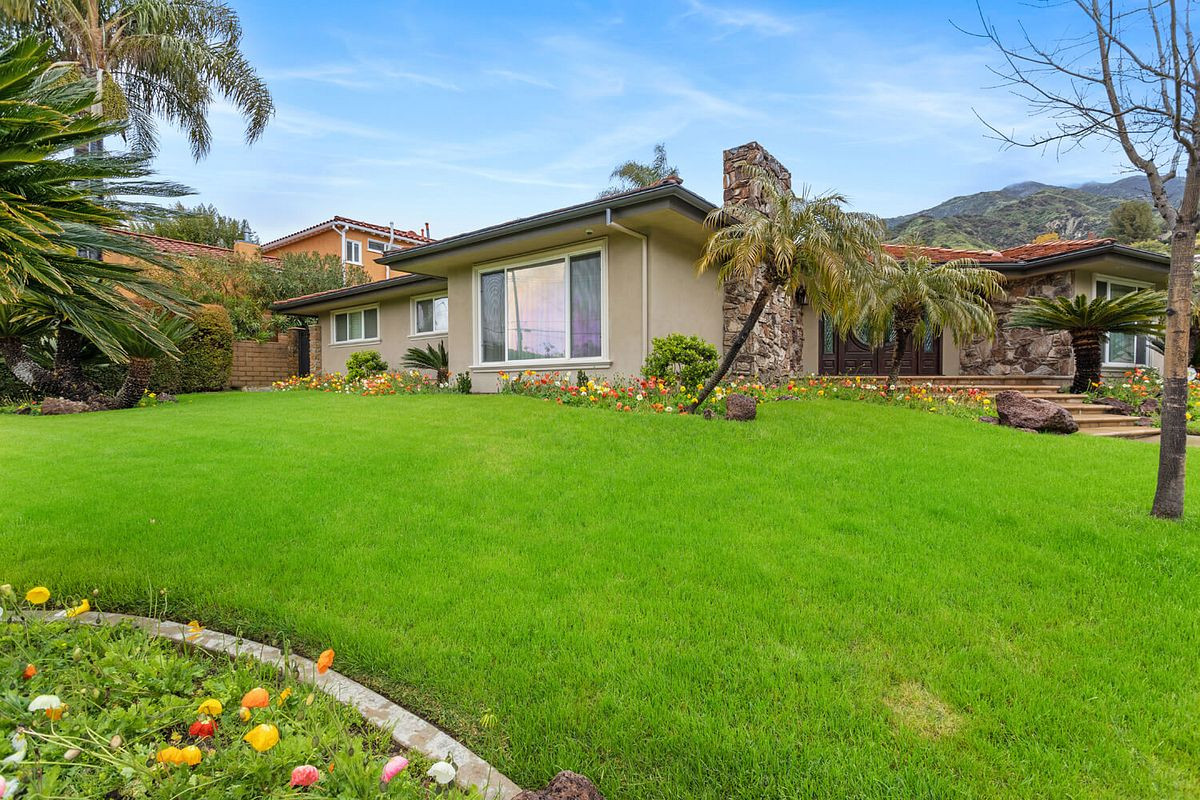 The After image above exemplifies the clean feeling that rain can bring, but without the gloomy skies. 

Notice how vibrant and green the landscaping is, and because the client made sure of it days prior, no trash cans or ugly hoses are detracting from the home's lovely exterior. 
While we're on the subject of trash cans, hoses, and other obstructions... 
Thinking about postponing/rescheduling your Burbank real estate photographer appointment?
If the reason is because you haven't had a chance to nest the nonsense in the garage on account of all the rain, then please consider sticking to your course of action.
I will not be able to make alterations to the property on days when it rains, and removing those items in post will cost you an extra $0.50—$1.00 per image. Complex decluttering (rarely needed) can run $5.00 per image.  
If you are fine with the cost of decluttering, and need to get the listing up-and-rolling, by all means, book or keep the appointment! The home and its landscaping will look great. 
Look at this before and after...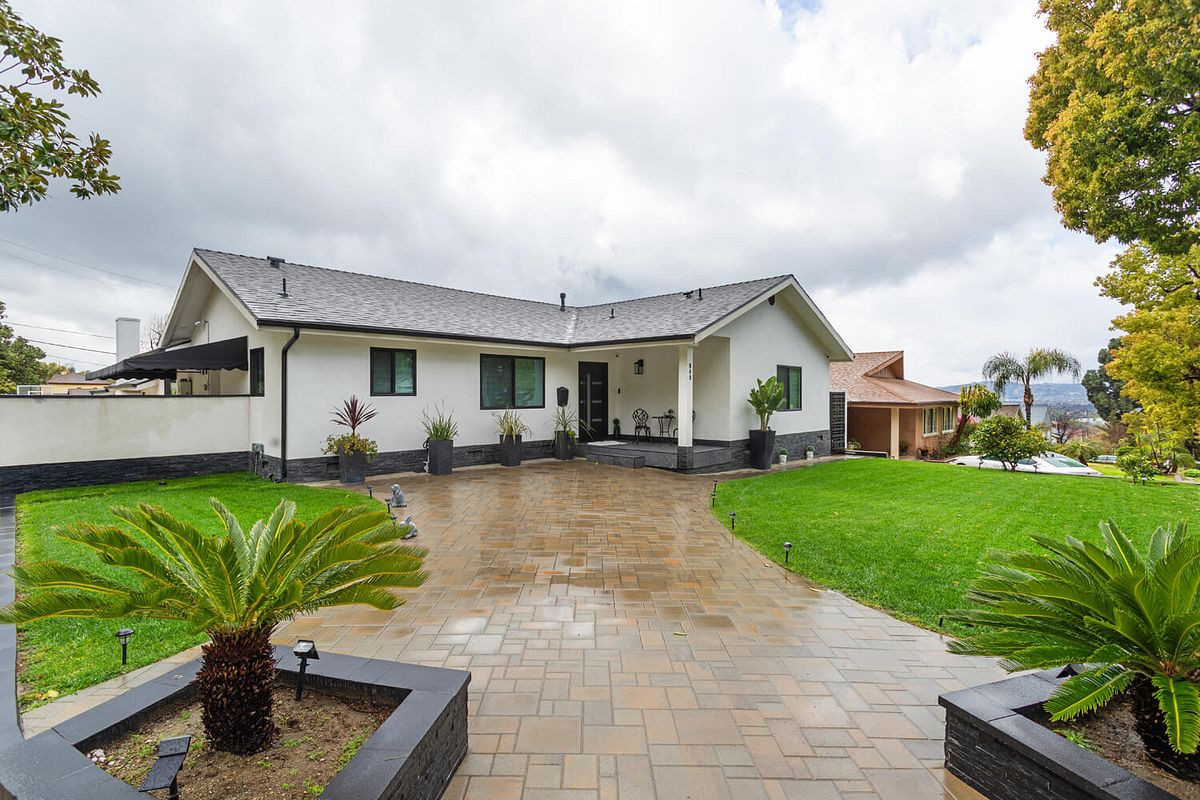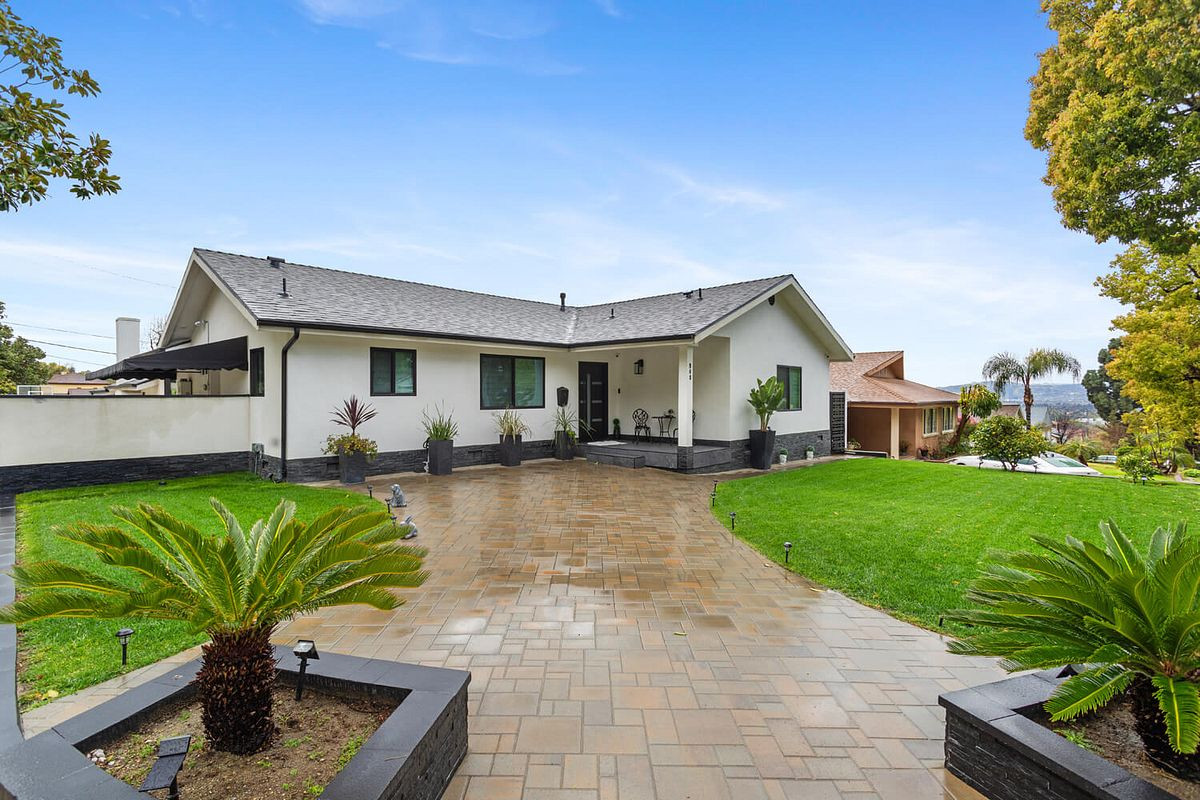 I really like the tonal deepening of the concrete after or between rains. Its contrast to the grass would be more extreme if it wasn't wet, but I think the shift is really effective in making the home pop. 

Mr. Blue Sky looks like he's just surfaced after a refreshing spring rain.
For me, the switch from gray to blue sky gives the home — obviously rich in character — some context. If the sky was gloomy, it would detract; but it's not, so instead, the story of a stunning home after a fresh rain is there for anybody shopping the Burbank real estate market to look into.
(Do you have clients in other areas of Southern California? You might also like my article on South Pasadena real estate photography.)
Not all homes are good candidates for rain-break photography
You know what I'm talking about. 
There are plenty of older homes with weathered stucco or wood that don't look their best after even the slightest amount of rainfall.  
If you believe your Burbank property to be in that group, and your instinct says reschedule with your real estate photographer, please go with your gut. 
Chances are, if rain creates a patching effect on a home's natural colors, then other things about the image won't be up to par. Call to reschedule 24 hours in advance, and save yourself any dissatisfaction. 
Let's check out a more common patch on a rain edit...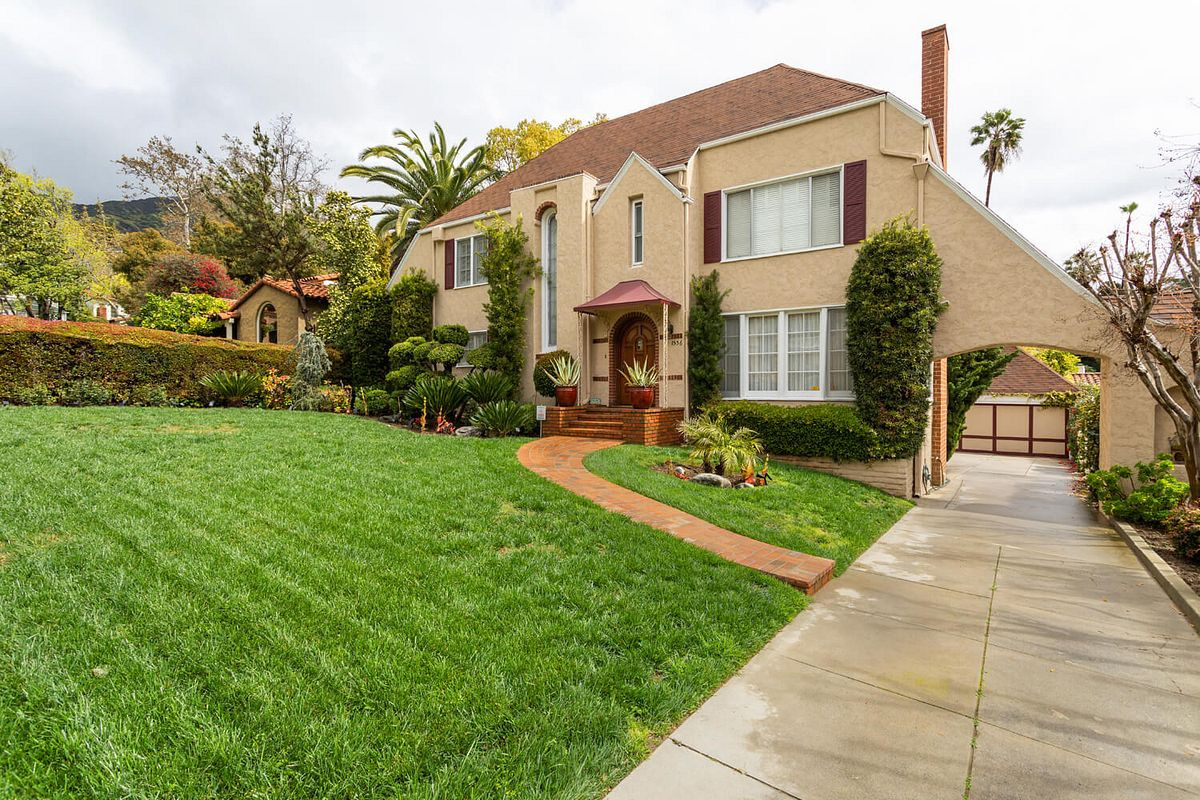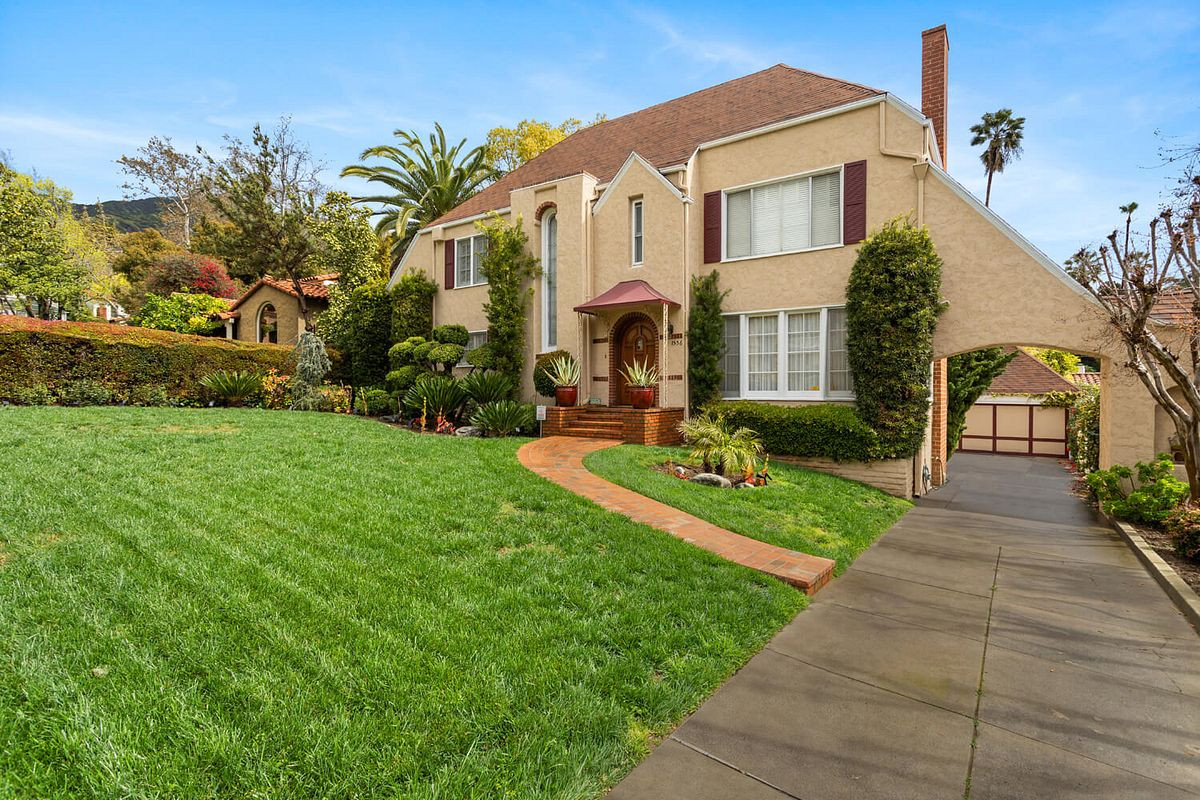 We can see in the before that a small part of the driveway has already revived itself from the rain. 

The most natural and appealing fix is to accentuate that fresh feeling directly after the downpour. Context, remember?
Check out the after. We rolled back time a bit by going full wet on it. Consequently, the eye-line that the viewer traces to the back of the long driveway is emphasized and uninterrupted. An edit like this only costs an additional $2.50 per image. 
Honestly, I like the photo as much as I would if it had been captured on a sunny day with no rainfall.
A couple other no-go's...
If, on a rainy day, winds become incessantly heavy in the area of the photoshoot, you or I should notify the other. Such winds can hinder the success of outdoor and indoor real estate photography in Burbank. 
The most common pitfall of an excessively windy day is how rain can connect with the spotless windows of your property. It's a no-go, for sure, and depending on severity, may very well require you to re-group before booking in order to have them cleaned again. 
Another reason to reschedule is if your property's driveway or walk-up is in need of repair and is fissured in spots. These spots will be emphasized by the rain, and photoshopping them is not an option with FEELS Photoworks, as it would be misrepresenting your property. 
As always, use your excellent discretion! 
I'm looking forward to helping you power through when the rains come again!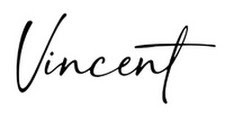 >> Click here to review services and pricing, and book an appointment..
Call or Text:
818-961-4277
Email:
feelsphotoworks@gmail.com